All Things Ireland – What will March hold for Irish local government?
All Things Ireland is the LGIU's way of bringing you all the latest local government reports and updates from the week so far.
While last week we saw the launch of the government's 2023 St Patrick's Day programme, this week brings new funding programmes as well as a new campaign to encourage groups to join their Public Participation Networks.
Stay tuned as we bring you all the latest in Irish local government…
Updates from LGIU Ireland
This week's policy briefing – The state of the private rental market: Accommodation availability
Accommodation availability and affordability are the main overarching issues in the private rental market, the first of which is considered in this briefing, which reviews how the market has evolved, factors underlying factors, and questions regarding future prospects.
Article – Clew Bay Bike Trail – Building momentum in Mayo.
First up in our series of articles exploring the winners at Chambers Ireland 2022 Excellence in Local Government Awards, we hear from Mayo County Council on how the Clew Bike trail won the Supporting Tourism Award.
Publication – In Conversation with Joan Martin, Chief Executive of Louth County Council.
As part of LGIU Ireland's 2023 series on local government leadership, Thomas and Hannah spoke with Joan Martin, Chief Executive of Louth County Council to find out more about the challenges and opportunities facing Louth, and the local government sector
Save the date!
Housing Practitioners Conference 2023 – Register your interest here. The 2023 Conference will take place in the Strand Hotel Limerick on Thursday, May 11th and a half day on Friday, May 12th. The Conference is being organised as a joint initiative between the Institute of Public Administration and the Housing Agency.
In Kilkenny, we saw new plans published by the OPW on the redevelopment of Abbey Quarter. Working with the National Monuments Service in the Department of Housing, Local Government and Heritage, the OPW is supporting Kilkenny County Council in the preparation of a Conservation Management Plan for the historic structures on the Abbey Quarter site.
The journal.ie reports that the Association of Irish Local Government (AILG) is to raise concerns about the Planning and Development Bill 2023 and that it will diminish the "primacy" of councillors in the planning process.
Limerick Twenty Thirty and the Ireland Strategic Investment Fund, part of the National Treasury Management Agency announced the creation of a unique joint venture partnership to finance the development of the One Opera Square project in Limerick city centre.
On Friday, the Homelessness report for January 2023 was released by the Department of Housing, Local Government and Heritage. You can find the local authority breakdown here.
The Irish Times showed this week that over the last two years, local authorities are paying private building contractors considerably more for social housing. With increases nearing 50% in some cases, you can read more from the Irish Times here.
Finally, developed by the LGMA in collaboration with the local authorities and supported by the Department of Housing, Planning and Local Government, currently, Carlow, Clare, Galway County, Kilkenny, Laois, Limerick, Louth, Mayo, Sligo, Tipperary, Waterford and Westmeath Councils are taking applications and submissions on the site.
Updates for local authorities
In Wexford town, Kafe Konnect offers a new social café which will provide employment to those who have found it difficult to access the labour market as a result of prior criminal convictions, or who are in recovery from addiction.
46 applicant groups have been successful under Stage 1 of the 2023-2027 LEADER programme, a community-led programme operating a locally-led, bottom-up, approach to meeting the needs of rural communities and businesses.
A new national awareness campaign is encouraging community groups and volunteers to join their local Public Participation Network (PPNs), which offers a crucial way for local authorities to connect with community groups around the country and allow people to have greater involvement in how government decisions affect their communities.
Tipperary County Council will be hosting a number of Drop In Clinics to explain and promote the Early Payment Scheme for small and medium size businesses as savings of 6% up to a maximum of €600 can be achieved by making payment before the 31st July 2023 or by making payment by Direct Debit.
Delivered in partnership with Dublin City Council's Smart Dublin programme, Google's Project Air View initiative measured the air quality on Dublin's streets over a period of 16 months finding Dublin's air quality to be "good".
The Association of Irish Local Government (AILG) 2023 Annual Conference has now launched and will take place on 19th and 20th April 2023 in Hotel Kilkenny, College Rd, Sugarloafhill, Kilkenny. Click here to register and more!
Following funding from The Arts Department of Wexford County Council via their Creative Communities Scheme, over 876 traditional song recordings from the early 1990s have been saved from digital deterioration and made available for free to the public.
Minister for Tourism, Culture, Arts, Gaeltacht, Sport and Media, Catherine Martin, has made two new appointments to the Board of the Abbey Theatre – Risteard Sheridan and Nicholas Basden.
Finally, €161,161 is to be allocated to each county for 2023 Creative Ireland initiatives (€236,161 for the four Dublin authorities). Between 2017-22 Creative Ireland allocated €29.8 million to support thousands of local authority initiatives that have unlocked a national ecosystem of creativity. Click here to find out more!
Infrastructure and transport
Road maintenance (regional and local roads) in Irish local authorities
This is the latest in the series of briefings dealing with the Local Government Audit Service (LGAS) Value for Money (VFM) Reports. In particular, will we zone in on the LGAS's latest VFM report that was produced in January 2022 entitled, an overview of Road Maintenance (Regional and Local Roads) in Local Authorities.
The main purpose of the LGAS's latest report is to quantify the cost and funding of road maintenance for Regional and Local Roads for all local authorities for the three years to 31 December 2019. As mentioned in previous briefings in this series, the LGAS's VFM reports allow each local authority to benchmark themselves against other similar local authorities with the aim of achieving efficiencies, where possible, in a particular area.
Eir has announced that it has passed 1 million homes and businesses connected with a new high-speed fibre-to-the-home (FFTH) network. With a target of 1.9 million for 2026, you can read more about the high-speed broadband rollout plans here.
The Irish Examiner reports that accessible transport from the Spike Island jetty to its visitor centre must be "an immediate priority", an engineering expert has said.  One of several recommendations from report prepared for the family of Paralympian and disability rights campaigner, Kay McShane, you can read the full article from the Irish Examiner here!
It is one of several recommendations contained in a report prepared for the family of Paralympian and disability rights campaigner, Kay McShane, who it's hoped will be honoured with an exhibition this summer on the island where she was raised.
Under the new BusConnects system for Limerick outlined by the NTA, Limerick is set for a 24-hour bus service. Read more from RTE here.
Clare County Council has welcomed the allocation of €2.13m in funding in this year's Transport Infrastructure Ireland (TII) grant allocations for greenways in County Clare.
The Department of Transport has said it will continue to monitor the operation of the daily flight service from Donegal Airport to Dublin following the recent cancellation of a dozen flights under a Public Service Obligation (PSO).
In East Cork, Iarnród Éireann has issued tender documents for a major upgrade to the rail line from Glounthane to Midleton according to the Irish Examiner.
In Dublin this weekend, the water supply of up to 350,000 homes and business will be temporarily affected to facilitate the construction of a infrastructure "facilitate the connection of a new water pipeline to work alongside a crucial existing pipe that dates back to the 1960s." (Journal.ie)
Finally, a major expansion of the Government's Walks Scheme will see 70 new walking trials developed over the next two years. For interested local authorities, expressions of interest must be made through LDCs and the closing date for EOIs is 23 June 2023.
Centre-stage in NI this week is the 2023 NILGA conference. Held in Omagh on February 23rd, the theme for this year's conference is 'Responding to Future Challenges' and will focus on how local government should innovate and collaborate across all sectors to achieve its ambitions. You can find the delegate list and conference agenda here.
While Protocol politics deliberated over the weekend, despite the PM's last-minute flight to Belfast, households in NI are facing a record rise in rates bills as councils attempt to balance their books. With Belfast City Council's 7.99% rise the highest so far, the below table from the BBC breakdowns the rates rises across NI's 11 Councils.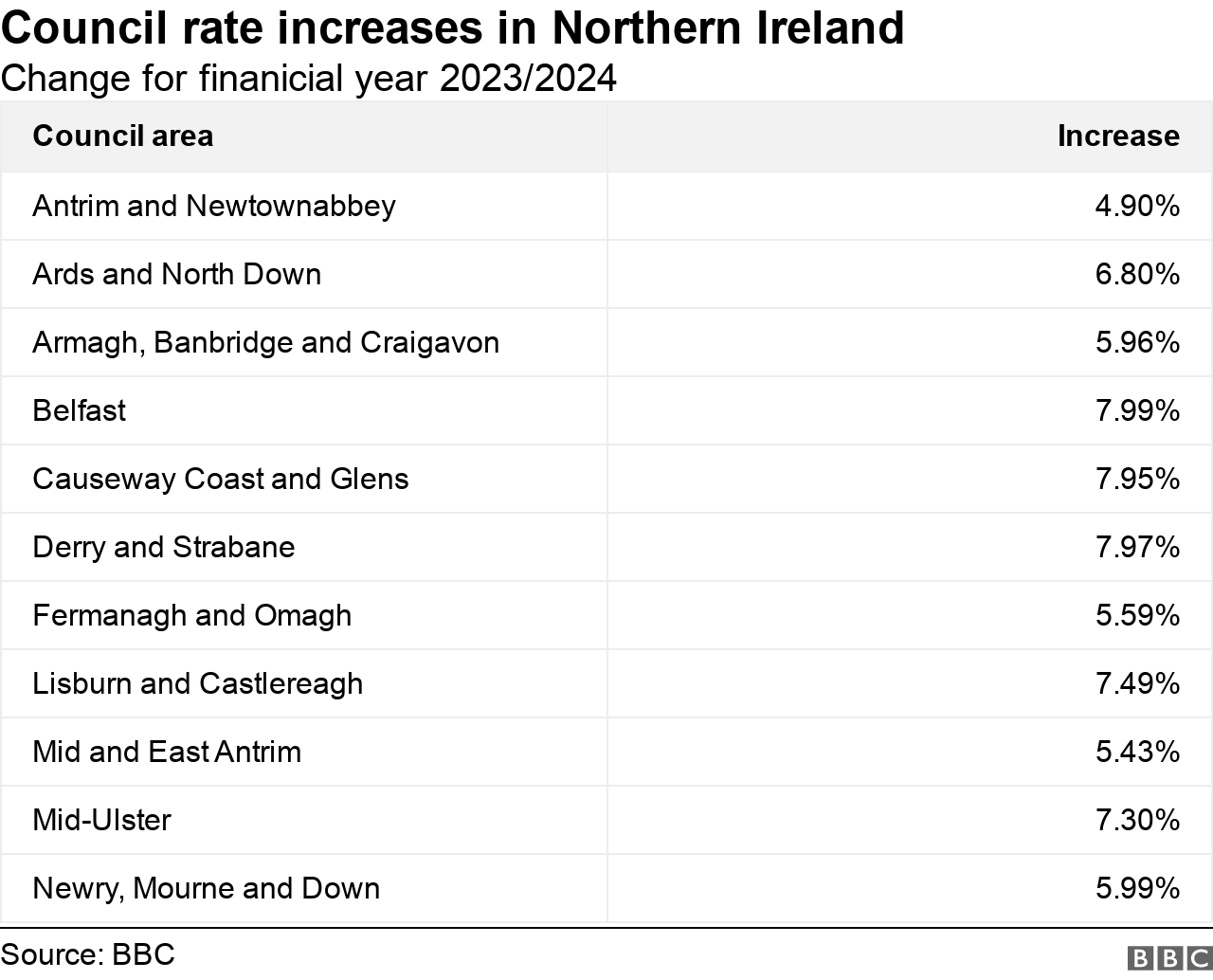 Local government learnings from Scotland
So many of the challenges faced by local governments are shared with their colleagues across countries and across continents. To promote the sharing of local government best practices and innovation, this week we look at two new policy areas in Scotland:
Up to standard? The condition of social housing 
One of our new policy briefing for the UK looks at the condition of social housing across the four areas of decent homes, damp and mould, fire safety and energy efficiency. Along with data showing the condition of homes, it flags up what more can be done, with examples of work undertaken by local authorities.
Inverness and Cromarty Firth Green Freeport and Forth Green Freeport have been selected by the Scottish and UK governments to become Scotland's first Green Freeports. Read more about the Green Freeport requirements here!
 Meeting the challenges of an ageing society
With Councils and the NHS facing major financial challenges, this briefing also highlights the tension between 'free at the point of delivery' public services and the dominance in the government of public choice models of service delivery.
You can find all this and more in our new All Things Scotland edition here.
Sign up today and stay connected with local government policy briefings, news, leading-edge research, training and more.