All Things Ireland – Protocol politics, turning pubs into homes and awards for Clare County Council
Welcome to All Things Ireland and dive into the week of local government!
Dive into all things local government this week in Ireland. In a week full of statistical releases and new reports, as well as the 'Windsor' framework, this latest edition of all things Ireland brings you the latest reports, updates and policy changes that shape Irish local governance this week.
Updates from LGIU Ireland
This week's policy briefing:
Briefing – Dublin Citizens' Assembly on mayoral government. This briefing explores the recent report from the Dublin Citizen's Assembly and looks at what the wide-ranging implications mean for Ireland's local government system. 
Article – Clew Bay Bike Trail – Building momentum in Mayo. This article is the first in our series exploring the winners at Chambers Ireland 2022 Excellence in Local Government Awards, we hear from Mayo County Council on how the Clew Bike trail won the Supporting Tourism Award.
Publication – In Conversation with Joan Martin, Chief Executive of Louth County Council. As part of LGIU Ireland's 2023 series on local government leadership, Thomas and Hannah spoke with Joan Martin, Chief Executive of Louth County Council to find out more about the challenges and opportunities facing Louth, and the local government sector.
Accommodation availability and affordability are the main overarching issues in the private rental market, the first of which is considered in this briefing, which reviews how the market has evolved, factors underlying factors, and questions regarding future prospects. The related issue of rents and affordability will be considered shortly in a further briefing.
Save the date!
Housing Practitioners Conference 2023 – Register your interest here. The 2023 Conference will take place in the Strand Hotel Limerick on Thursday, May 11th and a half day on Friday, May 12th. The Conference is being organised as a joint initiative between the Institute of Public Administration and the Housing Agency.
March 1st saw major improvements to the Local Authority Home Loan, with increases to house price limits for all local authorities areas:
Increase from €320,000 to €360,000 – Dun Laoghaire Rathdown, South Dublin, Dublin City, Fingal, Wicklow, Kildare.
Increase from €320,00 to €330,000 – Galway City, Cork City, Louth, Meath, Galway County, Cork County.
Increase from €250,000 to €300,000 – Limerick, Waterford, Clare, Wexford, Westmeath, Kilkenny.
Increase from €250,000 to €275,000 – Offaly, Laois, Monaghan, Cavan, Donegal, Tipperary, Kerry, Mayo, Roscommon, Sligo, Leitrim, Longford, Carlow.
One-fifth of 260 notifications received by local authorities in the last year to convert certain vacant commercial premises into homes related to former pubs. Producing 169 housing units, the statistics come a year after Minister O'Brien extended and amended existing regulations exempting certain types of vacant commercial premises from planning permission – where it is intended to provide residential units – to include former pubs.
Housing Economics Research Publications from the Department of Housing, Local Government and Heritage comprises two major strands:
Research papers have been authored by departmental staff, including analysis of the housing aspirations of renters and the downsizing preferences of mature homeowners.
Joint housing economics research programme with the Economic and Social Research Institute (ESRI).
Updates for local authorities
A new European Digital Innovation Hub (EDIH) is to be established in the Northern and Western regions to help SMEs apply cutting-edge technologies and digital skills to their businesses. The online hub, with €5.4m in funding, will support regional SMEs over the next three years and be connected to a network of over 200 other EDIHs across the European Union.
Explaining the concept of the EDIH, Northern and Western Regional Assembly Director David Minton commented that:
"It has a focus on circular economy, operations and sustainability areas, utilising AI, HPC and cybersecurity technological competence, with particular emphasis on data and data analytics–driven innovation and regard to energy consumption and low–carbon emissions."
Fingal County Council launched a new report focusing on the conservation and promotion of Irish heritage breeds with NPWS, suggesting that native Irish breeds are at severe risk unless steps are taken to address a number of issues threatening their very survival.
The Fire Danger Rating System for the season and the Minister for Agriculture, Food and the Marine advise that forest owners and managers should check and update fire plans and other relevant contingencies such as insurance, access, water points and private helicopter contracts, so as to be prepared well in advance of high fire risk phases.
Millennium Management, a global alternative investment management firm, has opened a new office at Central Quay in Grand Canal Dock, Dublin 2 with plans to expand its local headcount.
Check out the newly launched Government website – Where your money goes. It aims at promoting greater awareness and a better understanding of how and where Government spends public funds by showing a sectoral breakdown of public sector spending.
In a survey conducted by The Irish Independent, Clare topped the league table in terms of Councils whose gender pay gap favours women. Figures released in December place Clare among 13 local authorities where female employees are paid more than their male counterparts.
'Ireland's Global Garden' opened this week in Mount Congreve Estate in Kilmeaden, County Waterford. A world-class tourist attraction, the project received €5m under the Rural Regeneration and Development Fund, €1.2m from Fáilte Ireland and a further €960,000 from Waterford City and County Council to complete the project.
Cork City competed in the Small European Cities category and was ranked across several different categories, placing 1st for Economic Potential, 6th for Business Friendliness and 7th for the city's FDI Strategy. As many as 356 cities were assessed and Cork City Council Chief Executive said these rankings "represent the value that multinational companies place on Cork and its citizens and also highlight that Cork is a city that both companies and people continue to choose to work, live, study and invest in".
On Friday 24th February, Clare County Council was named winner of the 'Embedding a culture of workplace wellbeing' award in the small/medium category. The judges felt that Clare County Council "came across with the passion and excitement to deliver progressive wellbeing supports from induction to retirement".
Mayo Day returns this April to celebrate all things Mayo, with the flagship event heading to north Mayo for the first time and Ballina is the place to be on Saturday, April 29th.
A new multi-media campaign aimed at combatting loneliness and isolation among older people, Hello Again World, aims to empower and motivate older people to do something positive for their health by re-engaging with their communities and increasing their social connections.
This LGIU summary on the 2023 Budget in Ireland is provided to both our Irish readership and international readers interested in Ireland and the way the country seems to be relatively less impacted by much of the instability of international conditions at the moment.
A grant worth €3.72m has been approved to implement a 3-year Ealaín na Gaeltachta programme, with provision for 5,000 students/children!
Grants of up to €5,000 to capture and record Ireland's natural history are now available! Managed by the National Parks and Wildlife Service of the Department of Housing, Local Government and Heritage, the scheme aims to help established naturalists record in Ireland to maintain and enhance their expertise in species identification, and to develop the next generation of natural history recorders.
€161,161 is to be allocated to each county for 2023 Creative Ireland initiatives (€236,161 for the four Dublin authorities). The rollout of 31 new Local Authority Creative Ireland Culture and Creativity Strategies (2023-2027) will include a greater focus on health and wellbeing, creative industries, climate action, the development of the Irish language and social sustainability.
Infrastructure and transport
Western Development Commission launches new Report on travel trends in 35 rural towns. With a 300 strong index from 30 different indicators, the best overall score for a town was 195 (65% of the maximum) while the lowest score for a town was 107 (36% of the max). You can find the full report here.
Writing in Rte, Ann O'Brien from the University of Galway writes that while remote working hubs have been touted as a lifeline to rural Ireland, their full potential isn't being reached. With over 300 rural remote working hubs in operation, Ann outlines the need for a joined-up national approach to developing this infrastructure and offers interesting ways forward to ensure these hubs are at the forefront of rural Ireland's digital transformation.
The boost to Irish ports. Reporting from the Guardian uncovers the post-Brexit boom in Irish ports for both passengers and freight. With input from Eamonn Hore, the deputy chief executive of Wexford county council, (you can read the full article here).
Finally, check out new and upcoming research on rural development through easy-to-access poster presentations here.
Driving a circular economy approach to soft plastic recycling- This blog uncovers how the City of Greater Bendigo's new partnership with Close the Loop implements a circular economy for recyclable materials.
While Protocol politics deliberated over the weekend and culminated in the new Windsor framework, households in NI are facing a record rise in rates bills as councils attempt to balance their books. With Belfast City Council's 7.99% rise the highest so far, the below table from the BBC breakdowns the rate rises across NI's 11 Councils.
In Belfast, Deloitte's Regional Crane Survey shows how universities and student accommodation drive Belfast construction activity in 2022, with 23 major schemes under construction or completed in Belfast in 2022.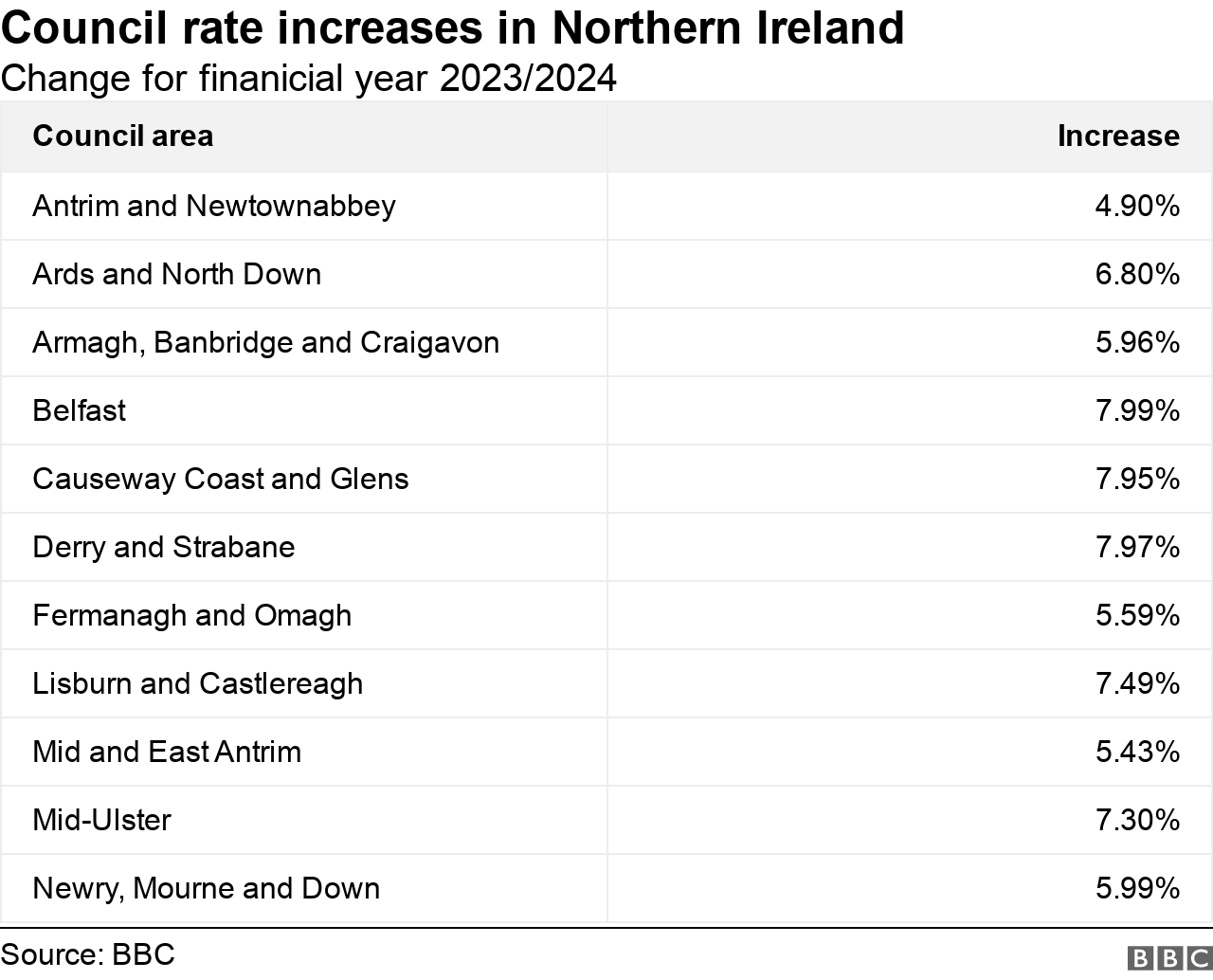 Environment and climate action
What's on in the local government around the world?
In light of Ireland's recent focus on directly elected Mayors in Dublin's Citizen Assembly, this week we look at the Municipal Corporation of Delhi where repeated failures to elect a Mayor over a year-long tussle between the two parties over the administration of the national capital shows the risks posed by hyper-competitive politics (read more from the Times of India here).
Front and centre in climate news this week was the fourth and final Progress Report of the 2021 Climate Action Plan. Outlining a final overall implementation rate of 79%, or 760 measures out of 965 completed for the four quarters of 2022, with important actions in Q4 including;
Ireland's first offshore renewable energy auction commenced, and a consultation on the design of our third onshore auction was launched.
Ireland's first all-electric bus service was launched in Athlone, representing a huge milestone in transforming how we travel
Restoration measures on six raised bog sites.
4,550 green skills training places were provided, with 60,000 modules made available to learners through the SOLAS Green Skills programme.
A new Deposit and Return Scheme for plastic bottles and aluminium cans were launched to incentivise waste reduction and promote the circular economy.
Also this week, new statistics show how land in Ireland under forestry has reached 11.6%, according to figures compiled for the National Forest Inventory survey for the Department of Agriculture Forestry and Food. Below the 18% Government target for 2050, (you can read more from Rte here).
Finally, a new article from the European Union features Ireland policy analyst, William Parnell, discussing how to design a more effective process for rural proofing which is consistent with the objectives of contemporaneous rural development policy.
Local government learnings from Scotland
So many of the challenges faced by local governments are shared with their colleagues across countries and across continents. To promote the sharing of local government best practices and innovation, this week we look at two new policy areas in Scotland:
Up to standard? The condition of social housing
One of our new policy briefing for the UK looks at the condition of social housing across the four areas of decent homes, damp and mould, fire safety and energy efficiency. Along with data showing the condition of homes, it flags up what more can be done, with examples of work undertaken by local authorities.
Inverness and Cromarty Firth Green Freeport and Forth Green Freeport have been selected by the Scottish and UK governments to become Scotland's first Green Freeports. (Read more about the Green Freeport requirements here).
 Meeting the challenges of an ageing society
With Councils and the NHS facing major financial challenges, this briefing also highlights the tension between 'free at the point of delivery' public services and the dominance in the government of public choice models of service delivery.
You can find all this and more in our new All Things Scotland edition here.
Sign up today and stay connected with local government policy briefings, news, leading-edge research, training and more.